How To Make Your Home Fit for Work and Rest
Working from home is nothing new. But nobody could have predicted that in 2020, millions would desert offices and call centres and swap their desks for the dining room table. With the Covid-19 pandemic showing no signs of slowing any time soon, and many businesses adapting to remote working, our homes have never been more important.
Long associated with providing a comfortable, cosy nest for hanging out and kicking back, our houses and flats have become workplaces, education centres and places to find solace when the news headlines get too much. If you're working from home, this guide contains useful information to help you create a home environment that is fit for work and rest.
Create a Dedicated Workspace
When the first lockdown was announced in March 2020, there was a sudden exodus from workplaces, with many employees starting their first day of home working with laptops balanced on their knees and taking calls from the kitchen table. Those who tried to participate in virtual conferences and liaise with clients while trying to contend with housemates, children watching TV or attention-hungry pets soon realised that working in the kitchen or analysing data on the couch wouldn't work. There's an assumption that working from home is a doddle and an easy way out, but in reality, many home workers work longer hours and can often be more productive.
The key lies in finding the right space. When you work, you need to focus, concentrate and engage in tasks without distractions or disruptions. So it's critical to set aside a dedicated workspace. You may be lucky enough to have a spare room, for example, a guest bedroom or a formal dining room you never use. But even if you're short on space, it is possible to create a tranquil hub away from the hustle and bustle of family life. Utilise the space you have available. You can easily turn a spare bedroom or a second reception room into an office without losing the area's primary function.
A Dedicated Workspace Continued
If you don't have a room free, don't panic. You could section off part of the living space and ask to be left alone during core working hours, or you could use part of the garage, set up an office in a conservatory or an outdoor shed. There are also options if you have the funds available and you're keen to add value to your home. These include converting a loft or a basement, extending your home, or adding a garden room. Such projects may take time and money, but they will enhance the property's value and saleability and its worth. Consider these measures if you are likely to be working from home for years to come.
Separate Work, Play and Rest
Some people have a rose-tinted vision of working from home, which involves leisurely mornings typing away from the sofa wearing pyjamas with daytime TV for company. In truth, working from home is as demanding as being in the office — some would argue that it's actually more labour intensive because there are distractions to contend with and no set hours. And that's aside from not having access to the technology and equipment usually available at the office.
If you've been working long hours, or your workload has increased, it's crucial to separate work, play and rest. Finding the right balance is vital, and the way you use your home can play an influential role in helping you manage your schedule and make the most of your working hours and free time. Create areas for work and learning and set aside spaces where you can enjoy hobbies and interests, chill out and unwind. Try to keep work and play areas separate as much as possible.
A Haven of Peace and Serenity 
Your bedroom, for example, should be a haven of peace and serenity. Opt for soothing colours, make your bed an appealing, inviting focal point with sumptuous duvets, pillows, cushions and throws and create a relaxing atmosphere with soft lighting. Avoid taking phones into the bedroom and scrolling through emails late at night. Once you've logged off, spend time doing activities that make you feel calm and allow you to have fun. From reading, doing a yoga session or running a bath to chatting to friends online or watching TV; it's essential to have time off and to allow yourself to rest.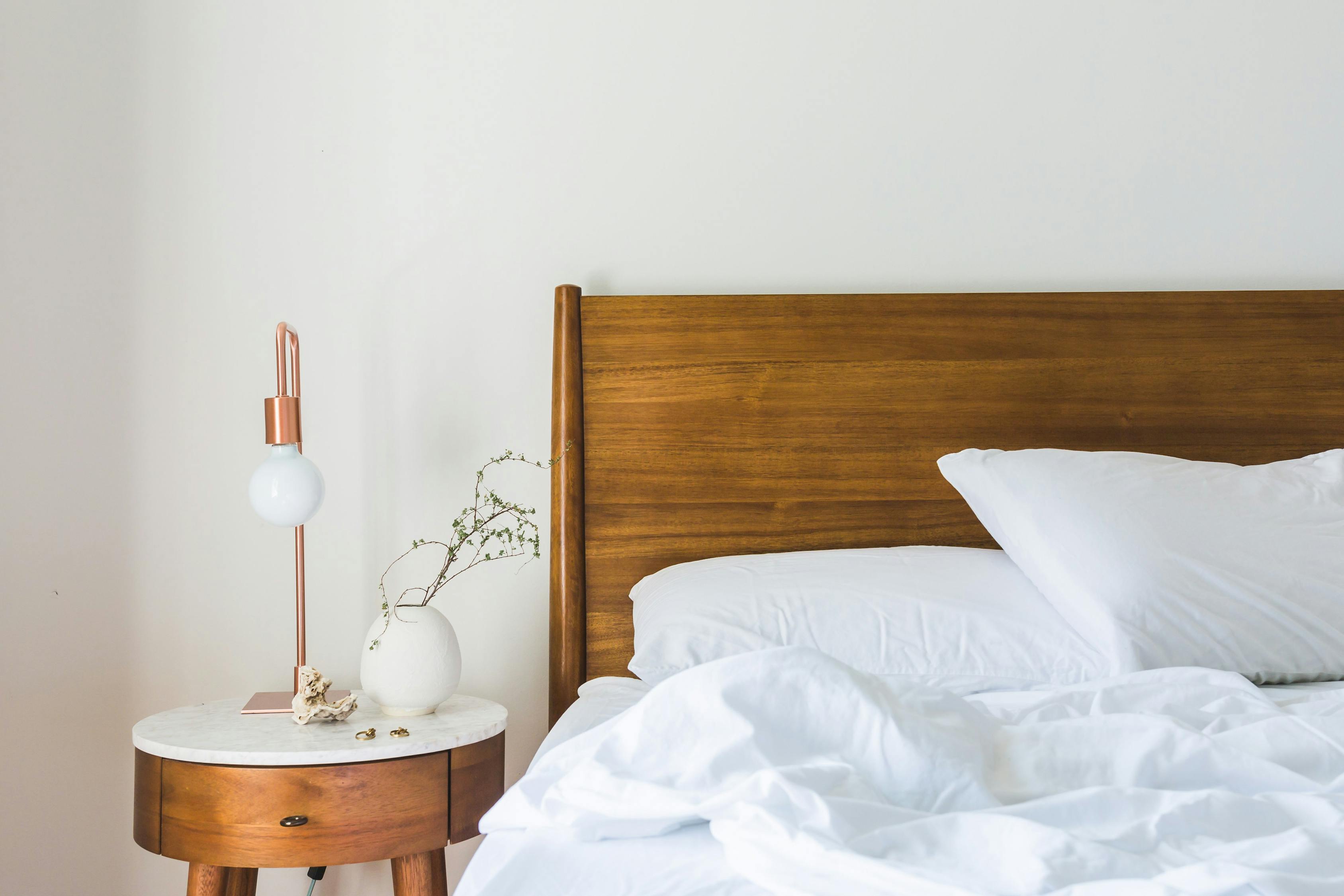 Make Your Home, Work for You
Many of us will have bought a property or signed a lease with no expectation of having to work from home. In the last year, our homes have evolved into spaces that cater to a varied range of activities. While some are geared towards modern life, others may not be so practical. If your home isn't working for you, there are ways to adapt and adjust houses and flats to make life easier. Creating multi-purpose spaces is one option. 
Multi-purpose Spaces 
In the age of homeschooling and working from home, it may be necessary for kitchens, living rooms and guest rooms to become classrooms and offices. You can achieve this without embarking upon a major makeover or spending a fortune. Using versatile, flexible furniture is a great idea. Fold-away and extendable tables, for example, enable you to adjust the function of the room in an instant. A side table used to display ornaments in a living room can quickly turn into a desk for work or homework. A sofa bed and a desk in a spare room allow you to switch between hosting guests and attending virtual meetings.
Working from home was becoming more commonplace before the pandemic, but there has been a sharp increase in the number of home-based employees in the last 10 months. As many businesses look to embrace the flexibility of remote working in the future, and more and more people choose to work from home, it's wise to ensure that your home is fit for the demands of life in 2021.
FIN
If you're working from home, you're looking after children, and you want your home to be a peaceful, relaxing place where you can wind down, socialise with friends and family and indulge your interests, it can be difficult to tick all of the boxes. Hopefully, this guide will help you modify and adapt your home to deliver on every level.
Thank you for spending some of your precious time in my online abode today
P.s. If you find my content useful and enjoy what I share, why not buy me a coffee by clicking the button below?
P.p.s. If you enjoyed this post, why not check out one of my inspirational notebooks by clicking the image below.